Lonely, traumatic, complicated… This is how some women experience abortion especially in countries where abortion is restricted or banned.
Abortion has become better accepted and is legal in many countries. However, the laws differ widely from country to country. In most cases, abortion restrictions laws cost women's health and freedom. Women's lives in Muslim and Arab countries are ruled by Islamic laws and cultural stigma. Yet, although abortion is extremely restricted, it remains very common in many Muslim countries.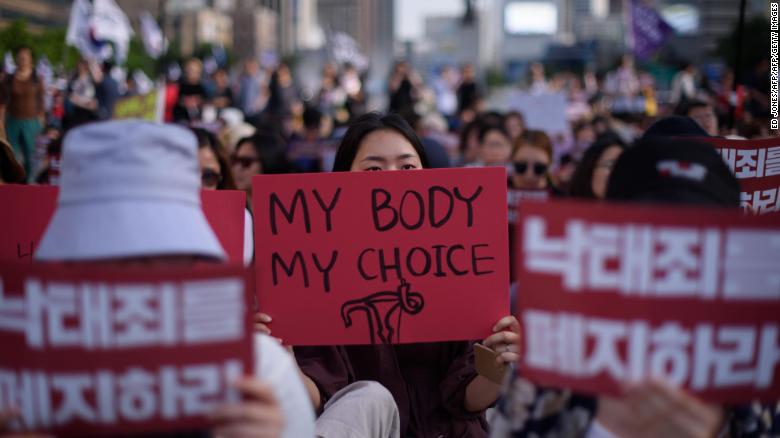 Protesters hold placards reading « Abolish punishment for abortion » as they protest South Korean abortion laws in Gwanghwamun plaza in Seoul on July 7, 2018 ©
There are many abortions that occur under inadequate or unsafe conditions either in developing or poor countries. In Brazil's case, Abortion is only permitted in case of rape or if the woman's or the fetus' life is in danger. Women face imprisonment if they undergo an abortion under any circumstances. Such constraints only push women to seek clandestine abortions. Unsafe abortions are ranked third among causes of maternal mortality in Brazil, as reported by the Pan American Health Organization (PAHO).
La découverte de plus de 2 000 fœtus dans un temple Thai à Bangkok, DR. 2010 ©
Women's right to abort was addressed by the Human Rights Committee when the ICCPR treaty (International Covenant on Civil and Political Rights) was adopted in 1966. Their goal was to protect women's right to life by getting the procedure in a healthy and safe way.
In France, women have been getting support from "La maternité heureuse" since 1956. The association's main goal was to change the 1920 law which prohibited abortion and contraceptive propaganda in France. Nowadays called "Centre de planification familial" denounces and fights all forms of violence and constraints against women, fights against discrimination and social inequalities, and engages in the prevention of AIDS and STIs. As we can see in the case of a 26-year-old Spanish woman who decided to get an abortion while being in France, she did not have difficulties getting the procedure. She said: "My friend called a hospital. They told her to contact le Centre de planification familial. The same week I got an appointment to see a doctor".
Young couple in consultation in La Maternité Heureuse, Paris, 1956. The French Movement for Le Planing Familial (name adopted in 1960) delivers contraceptives before the Neuwirth law is passed. © Janine Niépce / Roger-Viollet.
Today, public opinion is divided. Most people agree that a woman should have the right to abort if her life is at risk, in case of a serious fetal anomaly, sexual abuse, or for social and economic reasons. Total access to abortion also means free access to abortion to avoid illegal abortion and the serious health issues that go with it. On the other hand many, find these reasons not valid even if disability.
"The secret of happiness is freedom, and the secret of freedom, courage" – Greek historian Thucydides (460 BC – 395 BC)
Courage is what women need to demand better abortion laws and more freedom for women. Women's associations, human rights organizations, humanists, and women themselves from all over the world must take a courageous step and lead the path towards the legalizing of abortion everywhere.
Hanae JAALI